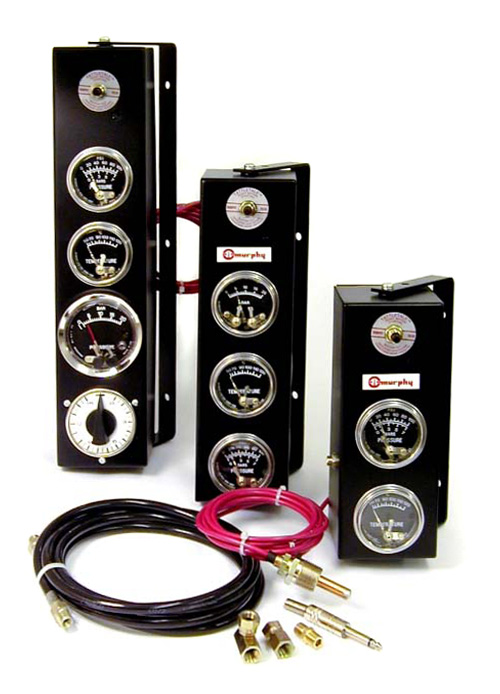 The WD100 and WD270 series panels are a rugged, dependable solution for engine or pump fault protection. Their compact size and ease of installation make these panels highly suited to the protection of mobile or stationary engine-driven applications such as tractors, PTO devices, earth moving equipment and pumps.
WD series panels use the Murphy Swichgage® for accurate and reliable indication and fault shutdown. Each panel features a rugged steel, black painted enclosure, fitted with a rotating bracket for ease of installation and use. Mobile equipment warning-before-shutdown versions (WD107/277) are also fitted with a Murphy Selectronic®TL7 flashing alarm light and SAH mini-siren, both of which
activate on fault, 30 seconds before an automatic shutdown.
Features:
Universal mounting panel with rotating arm bracket
Low oil pressure indication/shutdown (0 - 100psi / 0 – 7 bar)
High engine temp indication/shutdown (50 – 120°C)
Options for:
- pump high/low indicaton/shutdown (0 – 20 Bar)
- pump shutdown override timer
- high oil temperature indication/shutdown (60 – 140°C)
- warning and delayed shutdown for mobile equipment
- auxiliary shutdown input
Supplied complete with fittings and circuit dagram.
Feature Comparison:
stock
code

panel name / description

bulletin / 
spec sheet

circuit
diagram

engine oil
pressure

engine
coolant
temp

engine
oil
temp

pump
pressure

charge
fail
warning

main
controller /
magnetic
switch

enclosure type

extras/notes

B2644

WD100 Diagnostic Centre, 12V

Jackplug for auxiliary shutdown

B2842

WD270 Diagnostic Centre, 12V

  

B6300

WD277 Diagnostic Centre, 12V

Warning before shutdown alarms:




SAH-A mini-siren and TL7 flashing lamp
Literature:
For more information about this product, you can view the related literature here: