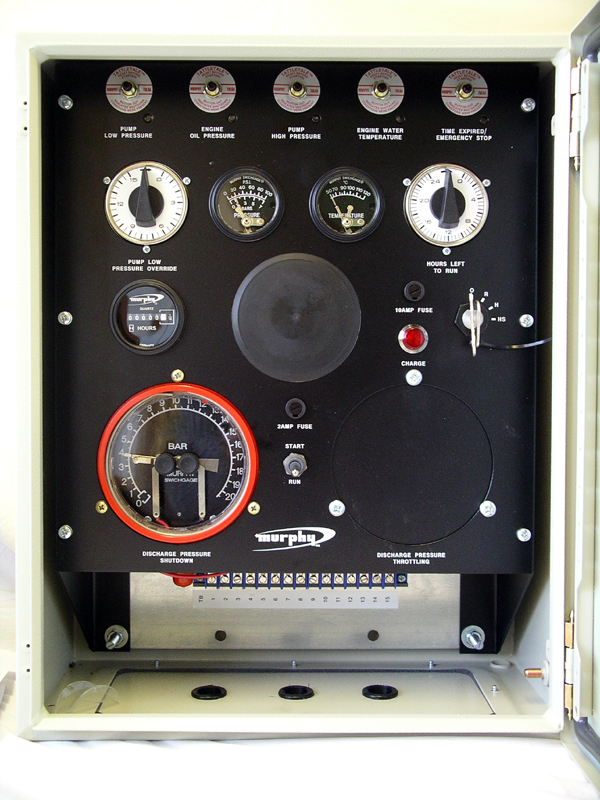 Notice of Product Discontinuation
Production of the 33.400.689 irrigation pump panels is scheduled to be discontinued. Enovation Controls offer a last-time-buy opportunity for this product. Last-time-buy orders must be received before 30th April 2020. Please contact your Enovation Controls / Murphy distributor or sales contact for details of price and availability.
Description
A range of specialist, mechanical Swichgage-based control panels for diesel-driven irrigation pumps and hosereels. These panels are manufactured at our UK facility and available for distribution in EMEA regions only.
The panels provide manual start/stop of an irrigation pump, plus automatic stop after an adjustable time or on pump 'no flow' condition, e.g. at the end of retractable hosereel travel. The range is available in plain steel or lockable/weatherproof steel enclosures, or as a open-chassis design for mounting in acoustic hoods.
Features
Off-Run-Preheat-Start keyswitch
System shutdown by operator, timer or 'no flow' switch
2 inch Swichgage® indication and shutdown protection for engine (low) oil pressure and (high) coolant temperature
4.5 inch Swichgage® indication and protection for (high/low) pump discharge pressure
Charge alternator excitation and warning lamp
Optional hours run counter
Optional Swichgage® for automatic demand-pressure throttling
Literature