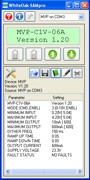 The Setup and Monitoring Software (SAM) was developed in conjunction with our controls devices MVP, DR and ProValve to simplify system configuration. Instead of tweaking small potentiometers and switches the SAM software allows you to set and monitor parameters with common terms and standard units. Simply scroll through to the desired parameter and view or adjust the setting.
The SAM software also offers the ability to read all parameters with one operation. The parameters can then be viewed on the screen in table form and saved to a file for future use. The settings list can then be written to another device for duplication, backup, etc. The table of settings can also be printed for a hard copy record. These features make the SAM software an easy, effective way to communicate with the controls devices.
FEATURES:
| Description | SAM |
| --- | --- |
| Price | Free |
| View and set individual parameters | ✔ |
| Monitor parameters in real time | ✔ |
| Read all parameters from controller into table | ✔ |
| Write all parameters from table to controller | ✔ |
| Load parameters into table from file | ✔ |
| Save parameters from table to file | ✔ |
| Print hard copy of parameter table | ✔ |
| Technical support | ✔ |
PART NUMBERS:
| Part Number | Description |
| --- | --- |
| CSW-CNC | Configuration software on CD, cables not included |
| CSW-FNC | Configuration software on Flash Drive, cables not included |
The appropriate adapter cable is also required:
| | |
| --- | --- |
| PCA1 | Adapter cable for use with ProValve products |
| CBL-IRA * or CBL-IRMU * | Infrared adapter cable for use with MVP products |
| CBL-USB & HHI2USB | USB cable and converter for use with DR products |
* USB IR adapters require the serial to USB converter HHI2USB to be used with the Hand held Interface.
---
Downloads:
Installation Instructions:
Download and the correct driver installer (32 or 64 bit) before installing the SAM application or connecting a USB device. 

NOTE: Windows 7 users – recommended sequence to install USB drivers. Windows Vista users – you must download and run the exe file with admin privileges.

Right click on the driver installer and select run as administrator.
Follow the on screen install guide to complete the install.
Download the SAM Software application
Unzip the file then run the HCT SAM.exe program, no installation is required.
NOTE: The following prerequisites are required: .NET Framework 2.0 (x86).