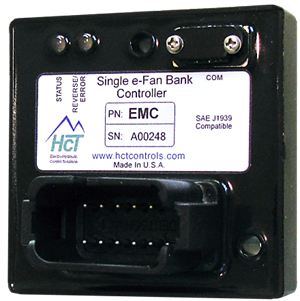 The EMC is a compact single e-fan bank controller designed to control multiple variable speed brushless fans. The controller provides low current varying PWM signal to the fans based upon the command inputs. Uniquely designed for multiple uses and ranging levels of complexity. The EMC is easily integrated into simple air handling applications or more complex Tier IV and Tier V cooling systems due to the configurable thermistor and diagnostic input options in addition to SAE J1939 communication with custom message capabilities. The uniquely hardened package makes this a rugged option for the Mobile and On-Highway industries. It also is ideal for refrigeration systems, aftermarket heat exchanger packages, compartment cooling, performance vehicles, air handling systems, and isolated cooling needs like; charge air, engine bay ventilation, transmission or hydraulic oil cooling.
The EMC's unique PID Set Point feature automatically adjusts the fan speed based upon the user set temperature while prioritizing the multiple thermistor inputs and J1939 messages. For greater performance requirements the OEM can adjust the cooling response by adjusting the PID closed loop settings. The EMC is also unique such that it can be configured through the Graphical User Interface (GUI) to control any combination of Active High and Active Low e-Fans making this a single solution for multiple fan types.
The simple and easy-to-use GUI enables the user to perform simple or complex actions based upon the configurable inputs. The GUI is password protected for OEM manufacturers in order to prevent tampering of the pre-tested and qualified OEM configurations. The GUI is designed to have a standard diagnostic dashboard for service technicians that enable access to non-critical functions while obtaining necessary functional information and recording data for troubleshooting or performance monitoring.
The EMC is a single economical hardware solution that provides a great deal of functionality making this an affordable solution for the simplest requirements to the most stringent and complex demands.
EMC PRODUCT FEATURES:
CE, E-Mark *check for availability*
Controls 1x bank of E-Fans (multiple if connected in parallel)
Up to 6x SAE J1939 CAN values, 2x sensor inputs, and 6x fan diagnostic inputs
Bi-directional fan control for radiator 'Purge' or 'De-Ice'
PC based Graphical User Interface (GUI) for system configuration/diagnostics
Configurable I/O for system flexibility (one product used in multiple applications)
SAE J1455 (load dump) compliant power protection
Diagnostic LED's with system "status" blink code indication
Mini USB communication with PC for set-up/diagnostics
Designed to operate 12VDC or 24VDC SPAL fan units
Configurable Diagnostics information provided on the CAN Bus (J1939)
Item

EMC

Description


Function
Electric and Fan System Controller for Mass Transit and Off-Highway Vehicles
Closed loop fan controller with reversing (purge), SAE J1939 CAN messages, temperature sensor inputs, and fan diagnostics

Analog Inputs

2
Thermistor or 0-5V




Digital Inputs

3
On/Off switches – Ignition, Reverse, Fire
6
Fan diagnostics for system control

CAN bus, SAE J1939

1
CAN bus 2.0B - Command input and diagnostics




Proportional Outputs



1
0.5A PWM 0 to 100% - Variable speed fan bank control - sourcing or sinking, Max 500mA with short circuit protection

PWM Dither Frequency

33 to 1000Hz
Software adjustable



Digital Outputs


1
500mA On/Off ouput for reverse or alarm indicators

Reverse cycle (purge) feature

Yes
'Purge' or 'De-Ice' for E-Fan and hydraulic fan

Connector

DTF15-12PB
12-pin Deutsch, Male

Mating Connector Kit

P/N: 999-10155
12-pin connector kit



Graphical User Interface

023-00561
Set-Up & Diagnostic Software - Free Download
PC-EMC
Set-Up & Diagnostic Software - USB Only

Programming Cable

P/N: 108-00134
USB Mini (2M)

Physical

75L x 45W x 73H mm
Enclosure Size

Mounting

3 x No.8 (5mm), SAE Grade 2 screws
Mounting hardware

Housing Type

Solid Potted
Fameproof, 2 part epoxy resin, black

NEMA/IP Rating

6P/IP67
Solid potted



Temperature ºC

-40 to +85 Deg. C
Operational Temperature
-60 to +150 Deg. C
Storage Temperature

Voltage

9 to 32 VDC
Reverse Polarity/J1455 load dump protection

Current Consumption

+ 200mA
Load current quiescent Max

Certification

CE, E-Mark
*Check availability*