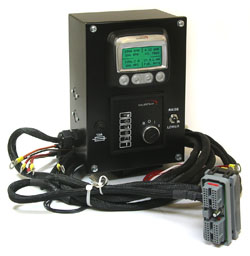 These discontinued Murphy panels were designed for plug-and-go connection with Perkins and Caterpillar ECU/CAN-based engines, used in stationary applications such as pumps, shredders, crushers, etc. The panels were designed and built at our UK facility, typically for use in EMEA markets. The range was discontinued from production in June 2016.
Features included:
PowerView PV101 display of ECU (J1939) transmitted engine data and fault diagnostics
CANstart™ engine control and LED fault indication
TSC1 speed control via raise/lower toggle switch
Black painted, metal enclosure
Integral wiring harness for direct connection to Perkins 1104D/1106D and Caterpillar C4.4/C6.6 engines.
Standard models were:
- B6502: 12V DC operation, manual start/stop
- B6503: 12V operation, manual or auto (e.g. high/low float switch) start/stop
- B6524: as B6502, but 24V DC
- B6525: as B6503, but 24V DC
Literature: