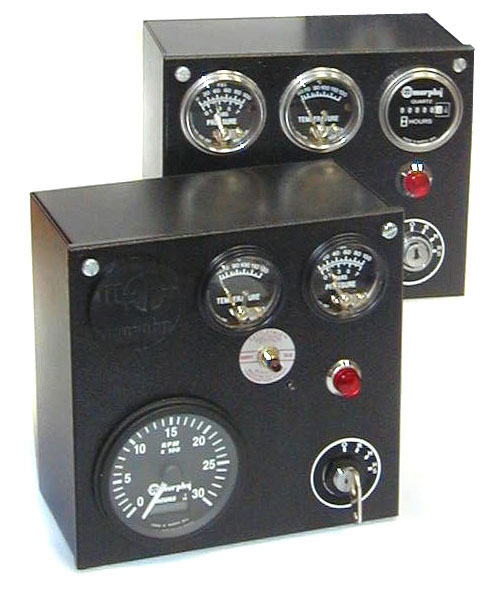 The Murphy Diagnostic Centre range provides operator controlled starting and stopping of an engine, with automatic shutdown protection in the event of a fault.
Several standard control panels are available, offering various levels of engine instrumentation and fault protection. All panels feature a four position keyswith (OFF-RUNHEAT-START), a charge alternator excitation and warning lamp, and a magnetic switch shutdown device for the control of an energised-to-run fuel device (not supplied).
All Diagnostic Centres are housed in a black painted, robust sheet steel enclosure, with shockmounts provided as standard. Circuit diagrams are supplied with each panel.
Current Models (EMEA regions only):
 stock
code
 panel name / description

 circuit
diagram

main
controller /
magnetic
switch 

tacho 

enclosure type 

 extras/notes

B5922

Advanced Diagnostic Centre, 12V

  

B6178

Advanced Diagnostic Centre, 24V

  
Discontinued Models:
 stock
code
 panel name / description

 circuit
diagram

main
controller /
magnetic
switch 

tacho 

enclosure type 

 extras/notes

B5232

Intermediate Diagnostic Centre, 12V

Hourmeter

B6175

Intermediate Diagnostic Centre, 24V

Hourmeter
Literature:
For more information about this product, you can view the related literature here: