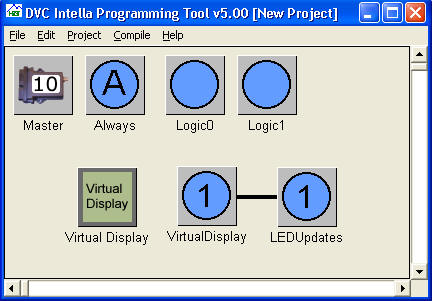 DVC INTELLA™ SOFTWARE SUITE FEATURES:
The patented Intella™ Software System is the heart of the company's DVC product line. It was designed to enable customers and channel partners who are relatively unfamiliar with sophisticated electronic control systems to customize our products in the field with minimal training and/or support. Intella™ Software is a comprehensive development environment for the design, development, testing, modification and support of DVC system applications. Intella™ Application Libraries can be used as templates for application development. All of this functionality is in a system that allows the application designer, application programmer and maintenance programmer to operate within a single application development environment.
One time customer site license fee - NO per seat or per application charges.
Powerful programming tool written and fully supported by HCT
Compatible with ALL DVC master and expansion modules (DVC21/22, DVC41, DVC50, DVC61 & DVC80)
Programming environment similar to other object based languages
Allows easy creation, change or modification to user DVC applications
Simulation and diagnostic segments are part of the package
User training classes and/or on-line manuals for self-teachers
Downloads
System Requirements: 
Part Number:         998-00003 (Full Version)
Download Size:         93 Mb
OS:                          Windows XP Professional, Windows Vista Business or Ultimate, Windows 7-32 or 64
PC with Serial Port:   For USB ports you need a USB to RS232 converter (i.e. Dongle)
Communication:        RS-232 Serial cable P/N: 999-10075
Installation instructions:
Click the above demo version download link
Save the zip file to a temporary file location on your computer.
Unzip ("Extract All") the files to your temporary location.
Run the SETUP.EXE file, and click Finish to complete the installation.
The Demo version of the Intella Suite will only work in Simulation Mode (will not drive any outputs) and requires a DVC7 or DVC10 connected to run the Simulator.