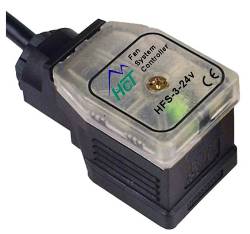 These small size, simple to apply anywhere PWM output controllers connect directly onto the valve coil and comes complete with all mounting hardware needed and can be used to drive 12 or 24V hydraulic valves with a DIN 43650 connector footprint.

HFS-3-12V - 12V supply, ECU PWM command, 1200mA maximum output current
HFS-3-24V - 24V supply, ECU PWM Command, 600mA maximum output current

Designed to take the command signal directly from the low frequency PWM signal generated by the engine ECU / DCU the driver smoothly controls the output to the fan speed control valve ensuring correct cooling at all times. 

Completely sealed to NEMA 6P / IP67 using our signature flame resistant epoxy resin process, and supplied with 10 feet of 4 core automotive grade pre-wired cable to allow easy connection and maintain integrity under extreme environmental operation.

Current feedback to compensate for coil heating and 'under-lid' manual adjustments for coil current, ramps up and down and dither are all available with a green led that tracks the proportional output level for clear visual indication of operation and also diagnostics if needed.
HFS-3 PRODUCT FEATURES:
Direct connect to low frequency PWM engine ECU fan speed signal
12V & 24V version of open loop single coil valve driver
Separate ramp UP and Down adjustments for smooth control
Unique 'Solid' potting with flame retardant materials
Uni-directional open loop pump stroker or valve controller
DIN 43650 footprint for mobile or industrial products
LED diagnostics show full controller operation at all times
Item
HFS-3 Series
Description

Function

Hydraulic Fan System Controller
Direct connect to engine ECU

Number of Coils

1 Single
HFS-3-12V, 1200 mA @ 12VDC
HFS-3-24V, 600 mA @ 24VDC

Control Input

PWM from engine ECS
5V (10% to 90% PWM)
20 to 125 Hz

Ramp times

300mS to ~5 Sec (with I max at 100%)
Separate UP/Down settings

Dither Frequency

Adjustable
~100 to ~250Hz ( ± 20%)

Connector

DIN 43650
 

Mating Connector Kit

3 Meter cable
pre-connected and color coded

Physical

68L x 34W x 40H mm
 

Mobile Equipment

IP67
Solid potted

Temperature ºC

-20 to +70 Deg. C
Operating

Voltage

12 or 24VDC ±20%
Reverse polarity protection and transient protection

Certifications

CE
 

Downloads: