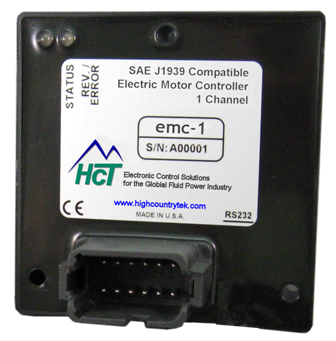 This version of the fan system controller has been designed to interface with an electric motor cooling system controller and outputs a protected low current DC proportional voltage that is scaled to represent the 0 to 100% fan speed demand.
The Controller uses the vehicle SAE J1939 temperature information to determine fan speed requirements while the standard and familiar HFS-J PC set-up graphical user interface allows the customer to set separate fan start, fan full on and alarm setpoints for each temperature zone being monitored. All other system features of the controller are available including a reverse output which can be interfaced via a relay to the E-motor controller or as required to change the direction of the motor drive signal.
The alarm output can be used to send the fan to full speed or connected to an annunciator to alert the vehicle operator to a cooling issue that needs attention.
EMC-1 PRODUCT FEATURES:
Pre-written Graphical User Interfaces for all modules
Operates with all OEM electro-hydraulic equipment
Sealed and protected to >IP67 ( NEMA 6P )
Unique 'Solid' potting with flame retardant materials
3 x temperature zone inputs direct from SAE J1939 bus
2 x ON/OFF outputs for fan reverse valve and external alarm
1 x 0 to 5 VDC output for interface with 'smart' E-Motors or controllers
Uni or Bi-directional fan control
Item
emc-1 Series
Description

Function

Electric Fan System Controller with reversing (purge) feature
Closed loop fan controller

Number of Coils

1 Single
0 to 3.3 Amps

Control Input

SAE J1939, (Charge Air, Transmission & Water Temperature) and / or
(2) thermistors or discrete
Coolant "Wet" temperature sensor
Air "Dry" temperature sensor

Reverse cycle (purge) feature

Yes
Lo to Hi logic input with software de-bounce

Digital outputs

(1) Reverse fan direction
(1) Alarm integration into host system
up to 3.3 Amps maximum

Connector

12-Pin Deutsch
 

Mating Connector Kit

P/N: 999-10155
Deutsch DTF15-12PB

Graphical User Interface (GUI)

P/N: 023-00218
Set-up & Diagnostic software

emc-1 Programming Cable

P/N: 999-10075
2 Meters long with RS232 connection

Physical

94L x 94W x 13H mm
3 x # 8 Mounting screws

Mobile Equipment

IP67 (Module only) - derated for connector as required
Solid potted

Temperature ºC

-40 to +85 Deg. C
Operating

Voltage

10 to 32 VDC
Reverse polarity protection and transient protection

Certifications

CE
 
Downloads