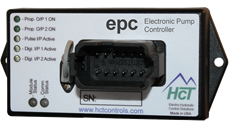 The EPC controller from HCT is designed to control variable displacement hydraulic pumps that can operate with or without swashplate feedback.
The controller has multiple output options that allows it to control pumps using one valve for 0 to 100% flow, two valves for 0 to 100% flow in A or B directions or one valve offset to mid position to give 0 to100% flow in A or B directions.
The module will accept industry standard command and feedback signals of 0-5VDC, 0-10VDC, 4-20mA or Pulse and can also accept digital commands from SAE J1939 systems allowing this to become a remote intelligent node on a mobile networked solution.
All functions are annunciated by colored LED's, while all the internal electronics are fully protected from environmental extremes by the total encapsulation in flame resistant resin. The use of 12 way heavy duty, industry standard Deutsch connectors gives the unit a full IP69K rating and the sealed mini-B USB connector gives an easy direct connection the user PC for configuration, data logging or diagnostics.
EPC PRODUCT FEATURES:
Proportional Pressure OR Flow Control Valve Drive (Open Loop)
Single or Dual coil, 12 or 24VDC valve controller
2x 3 amp proportional PWM outputs (Auto-ranging)
Anti-Stall and Automotive operational modes
Horse Power limiter mode
Frequency / Tacho / Pulse feedback I/P
SAE J1455 ( load dump) compliant power protection
Direct communications with PC via standard mini USB
SAE J1939 'Node' - addressable capabilities
Ideal for external placement - NO enclosure needed
Unique 'Solid' potting with flame retardant materials
| Item | EPC Series | Description |
| --- | --- | --- |
| Function | Multi Function Digital Pump controller | General purpose Single or Dual coil open loop PWM pump controller |
| Number of Coils | 1x Single or Dual | 0 to 3.0 Amps |
| Control Input | Voltage, Current or SAE J1939 | 0-5V, 0-10V, 4-20mA & SAE J1939 |
| Connector | 12-Way Deutsch | DTF12-12PB |
| Graphical User Interface (GUI) | P/N: 023-00259 | Set-up & Diagnostic software |
| PC Communications | P/N: 108-00134 | Mini USB to 5 Pin, 1 Meter Long |
| Feedback Input | Digital, Current or Pulse - software selectable | 0-5V, 0-10V, 4 to 20mA, 3Hz to 30KHz |
| Ref Output | +5V stabilized voltage for Joystick, Pot. e.t.c. | +5V @ 5mA ( current limited 1KΩ ) |
| Physical | 125 x 61 x 46 mm | 2x # 8 Mounting screws |
| Mobile Equipment | NEMA 6P/ IP67, 69K | Solid potted |
| Temperature ºC | -40 to +85 Deg. C | Operating |
| Voltage | 9 to 32 VDC | Reverse polarity protection and transient protection |
| Certifications | SAE J1455 |   |
Downloads: