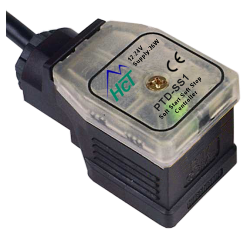 The PTD-SS1 & PTD-SS10 plug top driver version is a valve top mounted, DIN 43650 'soft start, soft stop' controller for use with a range of valves including on/off valves. 

These controllers can be set to jump to a preset 'step' voltage then ramp up to maximum at a preset rate. 
It can also be set to jump down to a preset 'step' voltage and ramp down to zero. 

These features can be used to eliminate 'bangs' or hydraulic shocks associated with operating a hydraulic valve.
APPLICATION INFORMATION:
Electrically adjustable Soft start / Soft Stop controller
Rate of change not viscosity dependent
Can be used with all types of electro-hydraulic valves
Repeatable 'Bumpless' Compression / De-compression
Perfect for load / Un-load circuits to reduce wear 
| Item | PTD-SS1 & PTD-SS10 | Description |
| --- | --- | --- |
| Function | Plug Top Driver | Electronic Soft Shift Controller |
| Number of Coils | 1 | 3.0 Amps Max., 36 Watts Max. |
| Command Input Value | Voltage only | +5 to +V Supply Max. |
| Input Resistance | ~820 Ohms |   |
| Step UP/DOWN adjustment | ~0 to ~100% |   |
| PTD-SS1 Ramp Times | 50mS to ~1 Seconds | Separate Up and Down settings |
| PTD-SS10 Ramp Times | 50mS to ~10 Seconds | Separate Up and Down settings |
| Connector | DIN 43650 | 1 Meter flying leads |
| Coil Resistance | 4.8 to 30 Ohms @ 20 Deg C |   |
| Physical | Solid Potted | 94L x 94W x 13H mm |
| Mobile Equipment | NEMA 6 / IP65 | Solid potted |
| Temperature ºC | -20 to +70 Deg. C | Operating |
| Voltage | 10 to 30 VDC | Reverse polarity protection and transient protection |
| Certifications | CE |   |