Recommended Replacement - We recommend using Sun Hydraulics XMD Valve Controller which can be configured using their easy to use mobile app that communicates to the XMD over Bluetooth or desktop configuration tool. Please contact one of our Hydraulic Controls Partners in your region for pricing and availability.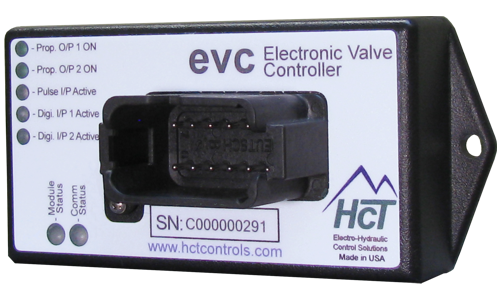 The EVC is one of the most versatile and precise electronic valve controllers on the market today. Configured using an intelligent graphical user interface (GUI), the EVC can be used in simple proportional single- and dual-coil applications or in more complex closed-loop pressure/speed control solutions. The command signal can be either industry standard voltage ( 0 to 5 or 0 to 10V ) or current ( 4 to 20mA ) while the mobile industry can take advantage of the SAE J1939 compatibility for horsepower limiting or anti-stall applications.
The EVC module has been designed to be a cost-effective solution to many of today's valve control projects. Designed with two 12-bit 3.0-amp outputs, the EVC is compatible with a wide range of 12- and 24-volt coil requirements and manufacturers. The unit uses standard Deutsch connectors, operates with minimal wiring requirements and is fully encapsulated to protect to IP67, meaning it can be mounted externally in extreme environments to save costly enclosures.
Take advantage of set-up tools such as data logging and real-time graphing via the GUI in addition to the save/load functions for repeatability and configuration management. The EVC has an industry unique feature where it can be powered by the mini-USB for desktop configuration while the coil output is turned off but GUI and parameter settings are fully operational, making this an ideal product for multiple functions. In short, you can do more with the EVC.
PRODUCT FEATURES:
Open-loop proportional pressure OR flow control
Closed-loop PID proportional pressure OR speed control
Single- or dual-coil, 12 or 24Vdc valve controller
Configurable input and feedback signals
2x 3.0-amp proportional PWM outputs (auto-ranging)
Anti-stall or Horsepower-limiting modes
Frequency / tacho / pulse feedback I/P
SAE J1455 (load dump) compliant power protection
Direct communications with PC via standard mini USB
Ideal for external placement - NO enclosure needed
Unique "Solid" potting with flame retardant materials
EXAMPLE APPLICATIONS:
Mobile Equipment
Skid Steer
Boom Control
Hydraulic Implement Control
Winch Control
Conveyor Speed
Constant Pressure Control
Constant Flow Control
Anti-Stall with Automatic Reversing
Horsepower Limiting
| Item | EVC Series | Description |
| --- | --- | --- |
| Function | Multi-Function Digital Valve Driver | General-purpose single- or dual-coil open loop PWM valve driver |
| Number of Coils | 1x single or dual | 0 to 3.0 Amps |
| Control Input | Voltage, Current or SAE J1939 | 0-5 V, 0-10 V, 4-20 mA & SAE J1939 |
| Connector | 12-Way Deutsch | DTF12-12PB |
| Graphical User Interface (GUI) | P/N: 023-00259 | Set-up & diagnostic software - Free download |
| PC Communications | P/N: 108-00134 | Mini USB to 5 Pin, 1 Meter Long |
| Feedback Input | Frequency / pulse only - software selectable | 3 to 30 kHz |
| Ref Output | +5-V stabilized voltage for joystick, pot. e.t.c. | +5-V @ 5 mA (current limited 1 KΩ ) |
| Physical | 125 x 61 x 46 mm | 2x # 8 Mounting screws |
| Mobile Equipment | NEMA 6P/ IP67, 69K | Solid potted |
| Temperature ºC | -40 to +85 Deg. C | Operating |
| Voltage | 9 to 32 VdC | Reverse polarity protection and transient protection |
| Certifications | SAE J1455 | |

DOWNLOADS: