Recommended Replacement - We recommend using Sun Hydraulics XMD -02 Valve Driver which can be configured using CANpoint Software that communicates to the XMD over a CAN bus connection. For applications where more than just a single analog input is used we recommend using the MC2 Mobile Controller which will require creating custom code using ACE Software. Please contact one of our Hydraulic Controls Partners in your region for pricing and availability.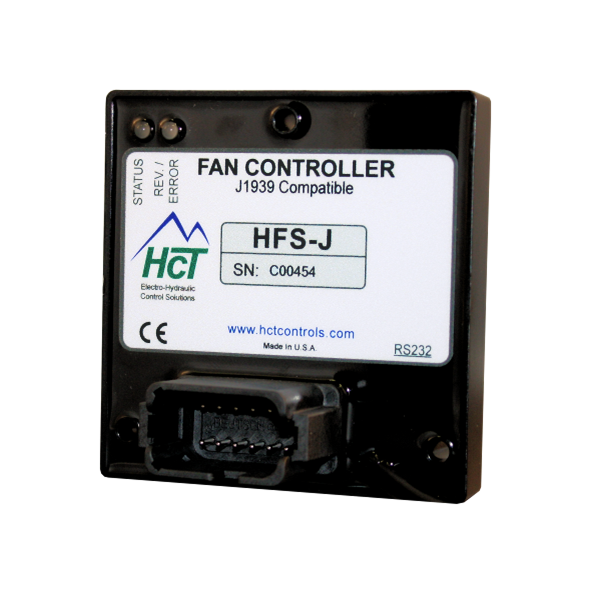 The HFS-J is the latest addition to the High Country Tek ( HCT ) family of hydraulic fan control modules. The highly cost effective HFS-J has enough processing power and input output functionality when operating as a single control module to support a wide range of hydraulic fan system applications. As with all of the HCT modules, the HFS-J is packaged in a small rugged enclosure and encapsulated in flame resistant resin to withstand extreme conditions in the harsh mobile operating environment.
It can control a hydraulically driven fan proportionally or In an ON/OFF manner based on user settings, system configuration and cooling needs with J1939 CAN Bus communications for engine and temperature zone data Inputs, and / or two independent inputs (zones) that will interface with industry standard NTC, two wire thermistors. Two (2) switch inputs, suitable for over temperature switches, retarder switches and air conditioning clutch switches are also provided for added system flexibility.
HFS-J PRODUCT FEATURES:
Pre-written Graphical User Interfaces for all modules
Operates with all OEM electro-hydraulic equipment
Sealed and protected to >IP67 ( NEMA 6P )
Unique 'Solid' potting with flame retardant materials
SAE J1939 & 2 x external discrete thermistor/switch contact
Uni or Bi-directional fan control
Suitable for new OEM build or Repower / Retrofit / Upgrade applications
Item
HFS Series
Description

Function
Hydraulic Fan System Controller for Off-Road Mobile Equipment
Closed loop fan controller with reversing (purge) and SAE J1939 CAN messages

Analog Inputs

2
Coolant "Wet" temperature sensor
Air "Dry" temperature sensor

Digital Input

1
On/Off switch - Fan speed override (software selectable)

CAN bus, SAE J1939

3
Pre-defined messages for charge air, transmission oil and water temperature

Proportional Output

1
0 to 3 Amps (Max)

Digital Outputs

2
On/Off Reverse and Alarm up to 3 Amps (Max)

Reverse cycle (purge) feature

Yes
Lo to Hi logic input with software de-bounce

Connector

12-Pin Deutsch

Mating Connector Kit

P/N: 999-10155
Deutsch DTF15-12PB



Graphical User Interface (GUI)


P/N: 023-00264
Set-up & Diagnostic Software - Free Download (rev E and above)
P/N: CD-HFS-J
Set-up & Diagnostic Software - CD Only

HFS-J Programming Cable

P/N: 999-10075
2 Meters long with RS232 connection

Physical

94L x 94W x 13H mm
3 x # 8 Mounting screws

NEMA/IP Rating

6P/IP67
Solid Potted - derated for connector as required

Temperature ºC

-40 to +85 Deg. C
Operating

Voltage

9 to 32 VDC
Reverse polarity protection and transient protection

Certifications

CE
Declaration of conformity
Downloads: