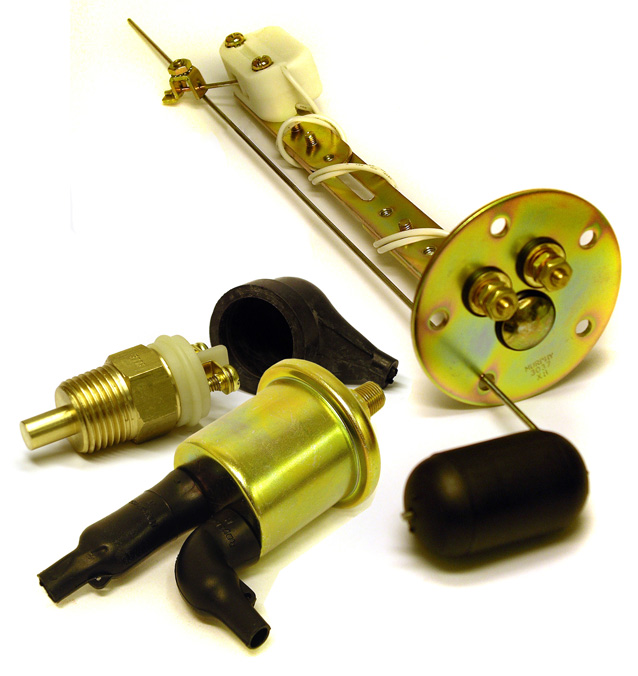 Originally designed for use with EG(S) electric gauges, ES series resistive measurement senders can also be used with several displays, controllers & I/O modules.
Standard models:
1-wire
(ground/chassis return)
2-wire
(insulated return)
2-wire
(insulated return, driving
2 x EG(S) gauges)
Pressure
ESP
ES2P
ESDP
Temperature
EST
ES2T
ESDT
Fuel Level
ESF
ES2F
ESDF
Specifications
Fuel Senders
Tank Cutout Hole: Ø 1.750 in. (44 mm)
Materials:

Float: Foamed Buna N
Float Arm: Stainless Steel
Resistor Housing: Glass Filled Polyacetal
Flange & Shaft: Steel, Zinc-Plated
Gaskets: Buna N, 70 Durometer (48% Acrylonitrile)
Hardware: Brass & Phosphor Bronze
Mounting Hardware: Zinc-Plated Steel

Resistance Range:

ESF and ES2F Model: 240 Ohms to 33 Ohms
ESDF Model: 120 ohms to 17 ohms

Operating Temperature: -40° to 185°F (-40° to 85°C)
Storage Temperature: -76° to 185°F (-60° to 85°C)
Application Note: We recommend using the Murphy Fuel Level Senders only in Diesel Fuel applications.
---
Temperature Senders
Housing Material: Brass
Temperature Range:

100º-250ºF (40º-120ºC) or 140º-300ºF (60º-150ºC)
Literature: