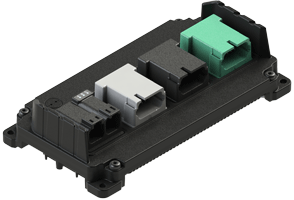 Below are the technical specifications of the uControl™ MC4-26-20 controller. The control module detailed in this specification is intended to be used to control hydraulic systems on mobile off-highway equipment.
Looking for the MC4-21-14-H8 high current controller? Click here
Downloads
Software
Manuals
Certifications
Solid Models
I/O Summary
Inputs (26):

Universal Analog / High Frequency: 10
Universal Analog: 16

Outputs (20):

4A PWM (feedback): 10
Dual Range PWM 4A / 0.5 A (feedback): 10
15A PWM (feedback): 0

Other:

CAN 2.0B Channels: 3
Sensor Supply: 2
Physical & Environmental
Dimensions: 250 mm x 140 mm x 60 mm (refer to Figure 2.1)
Weight: Less than 5 pounds
Storage Temperature Range: -40 °C to +125 °C
Operating Temperature Range: -40 °C to +105 °C (May be limited to +85°C at full rated current)
IP Rating: IP67 (IP69K with harness-side rated boots)
Operating Altitude: 0-4000 m
Power Supply
Nominal Supply Voltage: 6-32 VDC, Nominal Operation @ 12 /24 VDC
No-Damage: 38 VDC
Peak Voltage During Load Dump: Power supply suppression limits voltage to 55 Volts for duration of Load Dump Event (2 ohm supply)
Maximum Current: 50 A (25 A with only 1 Power / 1 GND connected)
Idle Current 12/24 VDC:

< 200mA @ 12VDC
< 100mA @ 24VDC

Standby Current 12/24 VDC:

< 5mA @12VDC
< 2.5mA @ 24VDC

Sleep Pin: Control sleep and wake settings
CAN Communications
CAN Specification: 2.0B
Channels: 3 for MC4 platform
Baud rates: Software configurable: 250 kb/s to 1Mb/s
Protocol: J1939
Performance: 250 kb/s with three busses active. Busses loaded to 90% 90%, and 50% capacity. No messages lost in 5 minutes of operation at specified loading.
Sensor Supply
Number of Sensor Supplies: 2 supplies for MC4 platform
Sensor Supply Output Voltage: 5 VDC or 10 VDC (Software Selectable)
Accuracy: +/- 1% slaved to internal ADC reference
Sensor Supply Maximum Current:

500mA @ 5 VDC output
500mA @ 10 VDC output

Protection:

Overcurrent shutdown
Overtemperature Shutdown
Protection against application of external voltage
Inputs
Analog Function
ADC Resolution:12 bits
Accuracy (0-5 VDC mode): Typical +/- 0.2 % FS
Accuracy (all other modes): Typical +/- 1 % FS
Measuring Ranges: 0…5V (Absolute & Ratio-metric), 0...12V, 0...36V, 0...20mA
Voltage Mode - 0…5V
Supported Channels: (refer to Pinout)
Input Resistance: 10kΩ +/- 20%
Sampling Frequency: 1kHz
Voltage Mode - 0… 36V
Supported Channels: (refer to Pinout)
Input Resistance: 10kΩ +/- 20%
Sampling Frequency: 1kHz
Current Mode - 0…22 mA
Supported Channels: (refer to Pinout)
Input Resistance: 200Ω
Sampling Frequency: 1kHz
Resistive Mode - 100Ω…100 kΩ
Supported Channels: (refer to Pinout)
Input Resistance: Selectable 1kΩ or 22kΩ
Sampling Frequency: 1kHz
Digital Functions
Digital Mode
Supported Channels: (refer to Pinout)
Type: Low/High side (Software configurable)
Input Impedance: 10 kΩ +/-20%
Sampling Frequency: 250 Hz
Switch-on Level: Software Configurable from 0 to 36V
Switch-off Level: Software Configurable from 0 to 36V
High Frequency Mode
Supported Channels: (refer to Pinout)
Type: Single ended, digital low/high side software configurable
Input Impedance: 10 kΩ +/- 20%
Input Frequency: 1Hz…50kHz
Input Voltage Range Selectable digital threshold with hysteresis
Threshold 1 for digital signals in range of 0-5Volts:

Standard switch on at 2.5 V
Standard switch off at 1.25 V

Threshold 2 for digital signals in range of 0-System voltage:

Standard switch on at 7.5 V
Standard switch off at 3.75 V

Input Pull-ups selectable in software:

22k to 5 Volts
22k to system supply voltage
Outputs
Digital Output - 4A
Type: Half-bridge output with software selectable operational modes (not for proportional drive)
Operational Mode: Push-Pull (drive output to supply voltage or drive to ground)
Extended Modes: H-Bridge capable when paired with a Proportional Output with the same rating
Maximum Current Rating: 10 Amps
Continuous Rating: 4 Amps
Diagnostics: Open/Short Circuit Protection
Fault Modes:

Auto-recovery or latching overcurrent.
Auto-recovery or latching short circuit or open circuit.
Overtemperature
Proportional (PWM) Output - 4A
Type: Half-bridge output with software selectable operational modes
Operational Modes: Push-Pull, High-Side Drive (float low) Low-side Drive (float high)
Extended Modes:

Proportional drive via PWM
Closed Loop Current Control
H-Bridge capable when paired with any other output with the same rating

Maximum Current Rating: 10 Amps
Continuous Current Rating: 4 Amps
Diagnostics: Open/Short Circuit Protection
PWM Frequency: 50 Hz – 5 kHz
Dither Frequency: Configurable
Dither Amplitude: Configurable
Control Range: 0.05 - 4A
Control Resolution: 1 mA
Fly Back Protection: Integrated
Duty Cycle Resolution: .01% @ 250Hz
Fault Modes:

Auto-recovery or latching overcurrent.
Auto-recovery or latching short circuit or open circuit.
Overtemperature

PWM Output Dual Range w/ Current Feedback - 4A / 0.5A
Type:

Low/High side, H-bridge (Software configurable*)
*Note: Software configurable as push/pull or float

Max Amperage: 4A
Diagnostics: Open/Short Circuit Protection
PWM Frequency: 50 – 5 kHz
Dither Frequency: Configurable
Dither Amplitude: Configurable
Control Range:

Low Current Mode: 0.005 – 0.5A
High Current Mode: 0.05 - 4A
(Software configurable)

Control Resolution:

Low Current Mode: 1mA
High Current Mode: 1 mA
(Software configurable)

Fly Back Protection: Integrated
Duty Cycle Resolution: .01% @ 250Hz
Fault Modes:

Auto-recovery or latching overcurrent.
Auto-recovery or latching short circuit or open circuit.
Overtemperature
LED Indicators
Controller Level Status
Power Status: 1x Green LED
Software Configurable: 1x White LED
Software Configurable: 1x Blue LED
Pin Out
Connector J1 A,B

Connector J2 Key A

Connector J3 Key B

Connector J4 Key C

Pin

Function

Pin

Function

Pin

Function

Pin

Function

PA1

Load Power (+)

A1

Sensor Supply Output (+10V/+5V)

B1

Input Universal Analog

C1

Sensor Supply Output (+10V/+5V)

PA2

Battery Ground (-)

A2

CAN2 H / RS232 TX

B2

Output PWM 4A With Feedback

C2

Output PWM Dual Range 4A / 0.5A

PA3

Load Power (+)

A3

CAN3 H

B3

Output PWM 4A With Feedback

C3

Output PWM Dual Range 4A / 0.5A

PA4

Battery Ground (-)

A4

Input Universal Analog / High Freq.

B4

Output PWM 4A With Feedback

C4

Output PWM 4A With Feedback

A5

Input Universal Analog / High Freq.

B5

Output PWM Dual Range 4A / 0.5A

C5

Output PWM Dual Range 4A / 0.5A

PB1

Battery Positive (+)

A6

Input Universal Analog

B6

Output PWM Dual Range 4A / 0.5A

C6

Output PWM 4A With Feedback

PB2

CAN1 H

A7

Input Universal Analog / High Freq.

B7

Input Universal Analog / High Freq.

C7

Input Universal Analog

PB3

No Connection

A8

CAN2 L / RS232 RX

B8

Input Universal Analog / High Freq.

C8

Input Universal Analog

PB4

Battery Ground (-)

A9

CAN3 L

B9

Input Universal Analog / High Freq.

C9

Input Universal Analog

PB5

CAN1 L

A10

Input Universal Analog / High Freq.

B10

Input Universal Analog / High Freq.

C10

Input Universal Analog

PB6

Sleep Mode

A11

Input Universal Analog / High Freq.

B11

Input Universal Analog

C11

Input Universal Analog

A12

Input Universal Analog / High Freq.

B12

Input Universal Analog

C12

Input Universal Analog

A13

Sensor Supply Ground (-) / RS232 GND

B13

Input Universal Analog

C13

Sensor Supply Ground (-)

A14

Input Universal Analog

B14

Output PWM 4A With Feedback

C14

Output PWM Dual Range 4A / 0.5A

A15

Input Universal Analog

B15

Output PWM 4A With Feedback

C15

Output PWM Dual Range 4A / 0.5A

A16

Input Universal Analog

B16

Output PWM 4A With Feedback

C16

Output PWM 4A With Feedback

A17

Input Universal Analog

B17

Output PWM Dual Range 4A / 0.5A

C17

Output PWM Dual Range 4A / 0.5A

A18

Input Universal Analog

B18

Output PWM Dual Range 4A / 0.5A

C18

Output PWM 4A With Feedback
Connections
Mating Connector J1A – 4 Pin
Manufacturer: Deutsch Inc.
Harness-side Connector Part Number: DTP06-4S
Harness-side Terminal Part Number:

1062-12-0166
Stamped & Formed, Nickel-plated

Harness-side Wedge Part Number: WP-4S
Mating Connector J1B – 6 Pin
Manufacturer: Deutsch Inc.
Harness-side Connector Part Number: DT06-6S-E008
Harness-side Terminal Part Number:

1062-16-0122
Stamped & Formed, Nickel-plated

Harness-side Wedge Part Number: W6S
Mating Connector J2 – 18 Pin with A Key
Manufacturer: Deutsch Inc.
Harness-side Connector Part Number: DT16-18SA-K004
Harness-side Terminal Part Number:

1062-16-0122
Stamped & Formed, Nickel-plated
Mating Connector J3 – 18 Pin with B Key
Manufacturer: Deutsch Inc.
Harness-side Connector Part Number: DT16-18SB-K004
Harness-side Terminal Part Number:

1062-16-0122
Stamped & Formed, Nickel-plated
Mating Connector J4 – 18 Pin with C Key
Manufacturer: Deutsch Inc.
Harness-side Connector Part Number: DT16-18SC-K004
Harness-side Terminal Part Number:

1062-16-0122
Stamped & Formed, Nickel-plated
Dimension Drawing