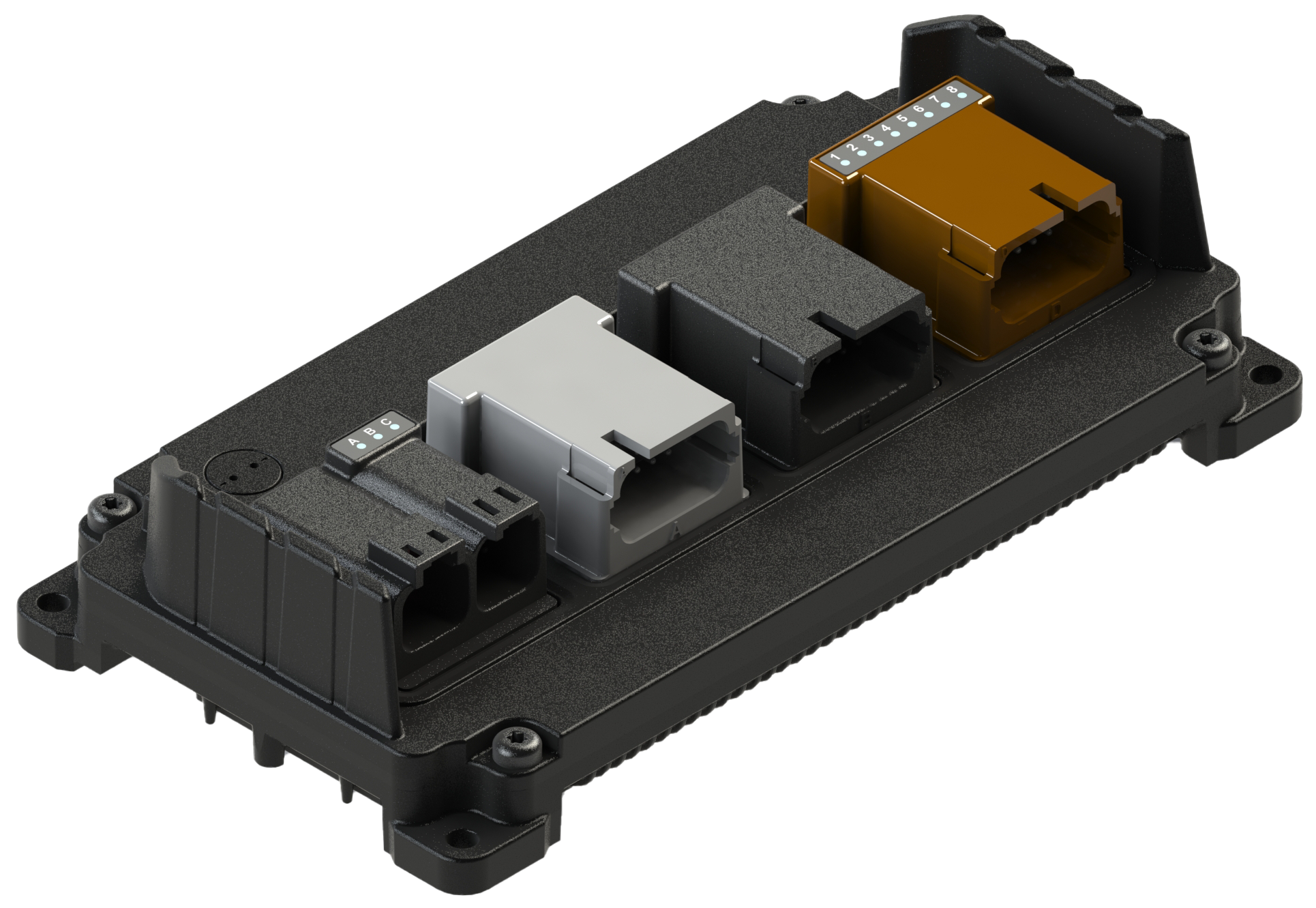 Below are the technical specifications of the uControl™ MC4-21-14-H8 controller. The control module detailed in this specification is intended to be used to control hydraulic systems on mobile off-highway equipment.
Downloads
Software
Manuals
Certifications
Solid Models
I/O Summary
Inputs (21):

Universal Analog / High Frequency: 8
Universal Analog: 13

Outputs (22):

4A PWM (feedback): 6
Dual Range PWM 4A / 0.5 A (feedback): 8
15A PWM (feedback): 8

Other:

CAN 2.0B Channels: 3
Sensor Supply: 2
Physical & Environmental
Dimensions: 250 mm x 140 mm x 60 mm (refer to Figure 2.1)
Weight: Less than 5 pounds
Storage Temperature Range: -40 °C to +125 °C
Operating Temperature Range: -40 °C to +105 °C (May be limited to +85°C at full rated current)
IP Rating: IP67 (IP69K with harness-side rated boots)
Operating Altitude: 0-4000 m
Power Supply
Nominal Supply Voltage: 6-32 VDC, Nominal Operation @ 12 /24 VDC
No-Damage: 38 VDC
Peak Voltage During Load Dump: Power supply suppression limits voltage to 55 Volts for duration of Load Dump Event (2 ohm supply)
Maximum Current: 100A
Idle Current 12/24 VDC:

< 200mA @ 12VDC
< 100mA @ 24VDC

Standby Current 12/24 VDC:

< 5mA @12VDC
< 2.5mA @ 24VDC

Node/Sleep Pin: Control sleep, wake and optional node settings
CAN Communications
CAN Specification: 2.0B
Channels: 3 for MC4 platform
Baud rates: Software configurable: 250 kb/s to 1Mb/s
Protocol: J1939
Performance: 250 kb/s with three busses active. Busses loaded to 90% 90%, and 50% capacity. No messages lost in 5 minutes of operation at specified loading.
Sensor Supply
Number of Sensor Supplies: 2 supplies for MC4 platform
Sensor Supply Output Voltage: 5 VDC or 10 VDC (Software Selectable)
Accuracy: +/- 1% slaved to internal ADC reference
Sensor Supply Maximum Current:

500mA @ 5 VDC output
500mA @ 10 VDC output

Protection:

Overcurrent shutdown
Overtemperature Shutdown
Protection against application of external voltage
Inputs
Analog Function
ADC Resolution:12 bits
Accuracy (0-5 VDC mode): Typical +/- 0.2 % FS
Accuracy (all other modes): Typical +/- 1 % FS
Measuring Ranges: 0…5V (Absolute & Ratio-metric), 0...12V, 0...36V, 0...20mA
Voltage Mode - 0…5V
Supported Channels: (refer to Pinout)
Input Resistance: 10kΩ +/- 20%
Sampling Frequency: 1kHz
Voltage Mode - 0… 36V
Supported Channels: (refer to Pinout)
Input Resistance: 10kΩ +/- 20%
Sampling Frequency: 1kHz
Current Mode - 0…22 mA
Supported Channels: (refer to Pinout)
Input Resistance: 200Ω
Sampling Frequency: 1kHz
Resistive Mode - 100Ω…100 kΩ
Supported Channels: (refer to Pinout)
Input Resistance: Selectable 1kΩ or 22kΩ
Sampling Frequency: 1kHz
Digital Functions
Digital Mode
Supported Channels: (refer to Pinout)
Type: Low/High side (Software configurable)
Input Impedance: 10 kΩ +/-20%
Sampling Frequency: 250 Hz
Switch-on Level: Software Configurable from 0 to 36V
Switch-off Level: Software Configurable from 0 to 36V
High Frequency Mode
Supported Channels: (refer to Pinout)
Type: Single ended, digital low/high side software configurable
Input Impedance: 10 kΩ +/- 20%
Input Frequency: 1Hz…50kHz
Input Voltage Range Selectable digital threshold with hysteresis
Threshold 1 for digital signals in range of 0-5Volts:

Standard switch on at 2.5 V
Standard switch off at 1.25 V

Threshold 2 for digital signals in range of 0-System voltage:

Standard switch on at 7.5 V
Standard switch off at 3.75 V

Input Pull-ups selectable in software:

22k to 5 Volts
22k to system supply voltage
Outputs
Digital Output - 4A
Type: Half-bridge output with software selectable operational modes (not for proportional drive)
Operational Mode: Push-Pull (drive output to supply voltage or drive to ground)
Extended Modes: H-Bridge capable when paired with a Proportional Output with the same rating
Maximum Current Rating: 10 Amps
Continuous Rating: 4 Amps
Diagnostics: Open/Short Circuit Protection
Fault Modes:

Auto-recovery or latching overcurrent.
Auto-recovery or latching short circuit or open circuit.
Overtemperature
Proportional (PWM) Output - 4A
Type: Half-bridge output with software selectable operational modes
Operational Modes: Push-Pull, High-Side Drive (float low) Low-side Drive (float high)
Extended Modes:

Proportional drive via PWM
Closed Loop Current Control
H-Bridge capable when paired with any other output with the same rating

Maximum Current Rating: 10 Amps
Continuous Current Rating: 4 Amps
Diagnostics: Open/Short Circuit Protection
PWM Frequency: 50 Hz – 5 kHz
Dither Frequency: Configurable
Dither Amplitude: Configurable
Control Range: 0.05 - 4A
Control Resolution: 1 mA
Fly Back Protection: Integrated
Duty Cycle Resolution: .01% @ 250Hz
Fault Modes:

Auto-recovery or latching overcurrent.
Auto-recovery or latching short circuit or open circuit.
Overtemperature

PWM Output Dual Range w/ Current Feedback - 4A / 0.5A
Type:

Low/High side, H-bridge (Software configurable*)
*Note: Software configurable as push/pull or float

Max Amperage: 4A
Diagnostics: Open/Short Circuit Protection
PWM Frequency: 50 – 5 kHz
Dither Frequency: Configurable
Dither Amplitude: Configurable
Control Range:

Low Current Mode: 0.005 – 0.5A
High Current Mode: 0.05 - 4A
(Software configurable)

Control Resolution:

Low Current Mode: 1mA
High Current Mode: 1 mA
(Software configurable)

Fly Back Protection: Integrated
Duty Cycle Resolution: .01% @ 250Hz
Fault Modes:

Auto-recovery or latching overcurrent.
Auto-recovery or latching short circuit or open circuit.
Overtemperature
PWM Output w/ Current Feedback – 15A Single, 25A in parallel mode
Type:

Low/High side, H-bridge (Software configurable*)
*Note: Software configurable as push/pull or float

Max Amperage:

15A Continuous
40A Peak
Parallel with mated high side driver for 25A

Diagnostics: Open/Short Circuit Protection
PWM Frequency: 50 – 2 kHz
Dither Frequency: Configurable
Dither Amplitude: Configurable
Control Range:

0.1A – 15A
0.1A – 25A (when in parallel with additional high side channel)

Control Resolution: 20mA
Fly Back Protection: Integrated
Duty Cycle Resolution: .01% @ 250Hz
Fault Modes:

Auto-recovery or latching overcurrent.
Auto-recovery or latching short circuit or open circuit.
Overtemperature

Output Indication:

LED with output state & fault state
Single Green LED per output
LED Indicators
Controller Level Status
Power Status: 1x Green LED
Software Configurable: 1x White LED
Software Configurable: 1x Blue LED
High Current Output Status
Output Inactive: Indicator is Dark
Output Active: Solid Green
Output in Fault: Blinking Green with code indicating fault
Pin Out
Connector J1 A,B

Connector J2 Key A

Connector J3 Key B

Connector J4 Key D

Pin

Function

Pin

Function

Pin

Function

Pin

Function

PA1

Load Power (+)

A1

Sensor Supply Output (+10V/+5V)

B1

Input Universal Analog

D1

Sensor Supply Output (+10V/+5V)

PA2

Battery Ground (-)

A2

CAN2 H / RS232 TX

B2

Output PWM 4A With Feedback

D2

Output PWM 15A With Feedback

PA3

Load Power (+)

A3

CAN3 H

B3

Output PWM 4A With Feedback

D3

Output PWM Dual Range 4A / 0.5A

PA4

Battery Ground (-)

A4

Input Universal Analog

B4

Output PWM 4A With Feedback

D4

Output PWM 15A With Feedback

A5

Input Universal Analog

B5

Output PWM Dual Range 4A / 0.5A

D5

Output PWM Dual Range 4A / 0.5A

PB1

Battery Positive (+)

A6

Input Universal Analog

B6

Output PWM Dual Range 4A / 0.5A

D6

Output PWM 15A With Feedback

PB2

CAN1 H

A7

Input Universal Analog / High Freq.

B7

Input Universal Analog / High Freq.

D7

Load Power (+)

PB3

Input Universal Analog

A8

CAN2 L / RS232 RX

B8

Input Universal Analog / High Freq.

D8

Load Power (+)

PB4

Battery Ground (-)

A9

CAN3 L

B9

Input Universal Analog / High Freq.

D9

Output PWM 15A With Feedback

PB5

CAN1 L

A10

Input Universal Analog / High Freq.

B10

Input Universal Analog / High Freq.

D10

Load Power (+)

PB6

Sleep Mode

A11

Input Universal Analog / High Freq.

B11

Input Universal Analog

D11

Output PWM 15A With Feedback

A12

Input Universal Analog / High Freq.

B12

Input Universal Analog

D12

Load Power (+)

A13

Sensor Supply Ground (-) / RS232 GND

B13

Input Universal Analog

D13

Sensor Supply Ground (-)

A14

Input Universal Analog

B14

Output PWM 4A With Feedback

D14

Output PWM 15A With Feedback

A15

Input Universal Analog

B15

Output PWM 4A With Feedback

D15

Output PWM Dual Range 4A / 0.5A

A16

Input Universal Analog

B16

Output PWM 4A With Feedback

D16

Output PWM 15A With Feedback

A17

Input Universal Analog

B17

Output PWM Dual Range 4A / 0.5A

D17

Output PWM Dual Range 4A / 0.5A

A18

Input Universal Analog

B18

Output PWM Dual Range 4A / 0.5A

D18

Output PWM 15A With Feedback
Connections
Mating Connector J1A – 4 Pin
Manufacturer: Deutsch Inc.
Harness-side Connector Part Number: DTP06-4S
Harness-side Terminal Part Number:

1062-12-0166
Stamped & Formed, Nickel-plated

Harness-side Wedge Part Number: WP-4S
Mating Connector J1B – 6 Pin
Manufacturer: Deutsch Inc.
Harness-side Connector Part Number: DT06-6S-E008
Harness-side Terminal Part Number:

1062-16-0122
Stamped & Formed, Nickel-plated

Harness-side Wedge Part Number: W6S
Mating Connector J2 – 18 Pin
Manufacturer: Deutsch Inc.
Harness-side Connector Part Number: DT16-18SA-K004
Harness-side Terminal Part Number:

1062-16-0122
Stamped & Formed, Nickel-plated
Mating Connector J3 – 18 Pin with B Key
Manufacturer: Deutsch Inc.
Harness-side Connector Part Number: DT16-18SB-K004
Harness-side Terminal Part Number:

1062-16-0122
Stamped & Formed, Nickel-plated
Mating Connector J4 – 18 Pin with D Key
Manufacturer: Deutsch Inc.
Harness-side Connector Part Number: DT16-18SD-K004
Harness-side Terminal Part Number:

1062-16-0122
Stamped & Formed, Nickel-plated
Dimension Drawing