When you are ready to test your PowerVision code on a display follow these steps to create the installation files then load the files on a display. These instructions apply to Versions 2.9 and later however previous versions will be similar.
Create Configuration Installation Files
In PowerVision select the Firmware Tool Button.
Select "Create Application Install Package" the first time downloading to update the OS on the display to the same version of PowerVision you are using. You can up-rev or down-rev.
Select "Create Configuration Install Package" for faster downloads once OS version matches.
The file will not create if there are errors shown in the console window. Double click on any errors listed in the console to take you to the item and correct the issue.
Save file to a USB Flash drive using "Save As" or load file directly to the display using "Load All".
File extension will be .gcibin, .pv1, or .pv2 depending on the display hardware.
Do not use spaces or special characters when naming the file.
Option 1 - Program Display from USB Flash Drive

This option may be required before option 2 will work if the operating system version on the display is not 2.9 or newer or vice versa.
Plug USB Flash drive with the file on it into displays USB Port
Displays with Buttons - Press and hold button down then apply power (do not use lower left button)
Glass Displays with only Touch Screen- Apply magnet to back of display as shown in displays installation instructions then apply power.
Follow on-screen prompts to select and load the file.
Option 2 - Program Display Directly from PowerVision over LAN
Hardware Needed

Plugable brand USB/Ethernet Adapters 10/100Mbps over USB 2.0
Ethernet Crossover Cable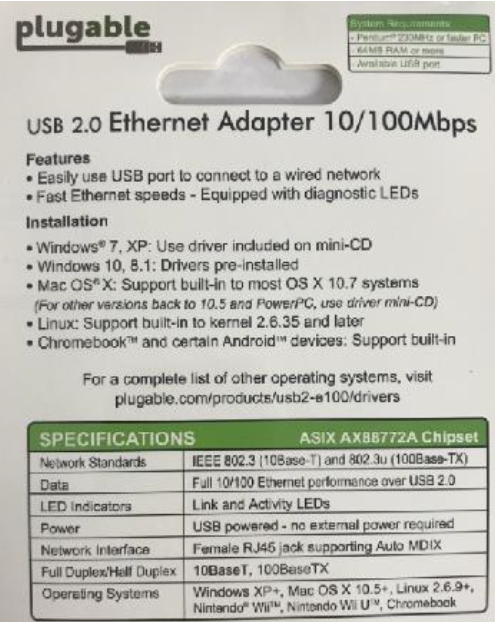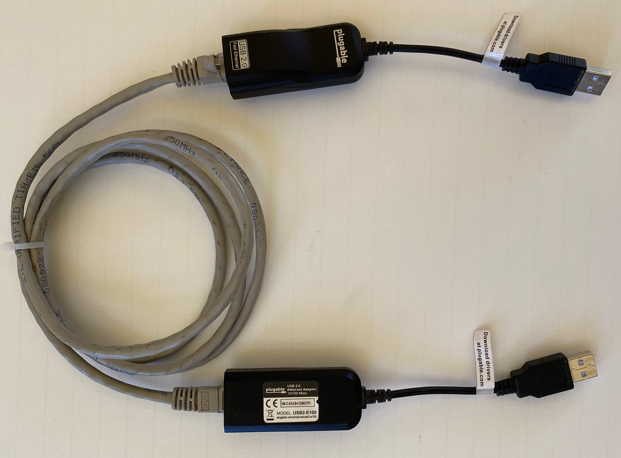 Complete kits are available with all USB/Ethernet adapters, Pwr/USB harnesses, and power supply. Go to display page then model, on main website for kit part numbers.

Connect the USB/Ethernet LAN between the computer and the displays USB port.
Verify display is connected in the PowerVision Configuration Tab, the display hardware type and IP address will be shown next to the "Communicate Over" selection when connected.

Select the Firmware Tool Button, Create the Application or Configuration Installation file then select "Load All', the file will then be transferred to the display.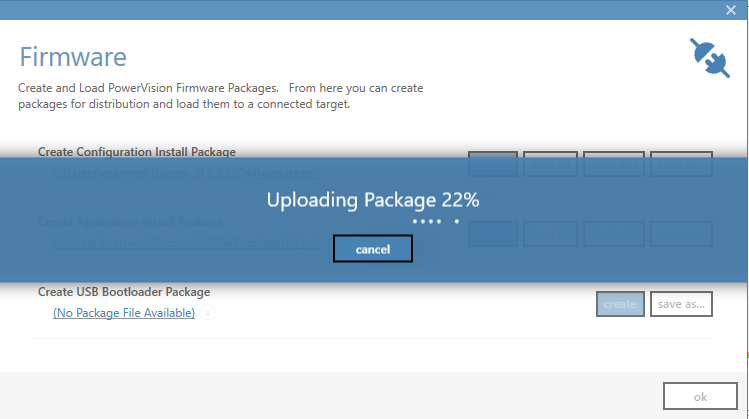 Programming All Glass Displays with No Touch Screen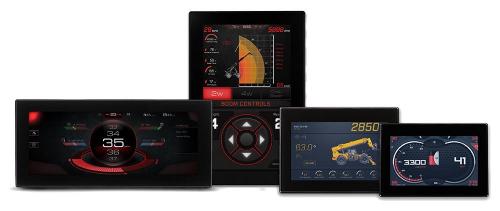 If the display has no Touch Screen and no buttons or the wrong touch tune the display can be automatically reprogrammed over USB with no user intervention.
Rename the configuration file to display part number-autoload.pv1 with no spaces in between. Example: 78700622-autoload.pv1.
Follow the standard procedure for programming a display from a USB Flash drive.
As soon as display boots up and sees the autoload file it will install it with no further user input.
These displays can also be programmed directly from Powervision using the LAN connection.
Error Codes
If there is an issue during the download process one of the following error codes will be generated.
Unit gets stuck indefinitely loading the file – possibly illegal characters in the file name () or spaces or file is corrupted. See ! – 0 error code which are similar.
! - 0 - cannot recognize the file, may have (x) added to the extension; .tar(1).gz instead of .tar.gz , (1).gcibin, or file is corrupted. Check for illegal characters in file name – spaces or ().
300 – Password flag read error
301 – Invalid file: password flag, wrong file type for display, PV780-.gcibin vs PV780B-.pv1), possibly out of memory from large data log files. On M2 Platforms before loading a .pv2 file install the PV2 Support Upgrade.pv1 file.
302 – Security error: Unsecured file on a secured unit
303 – Part Number Match failed
304 – Corrupted tar file
305 – Load for different display type (.tar)
306 – Load for different display type (.gciBin)
307 – Unknown file extension (check for spaces in file name or illegal characters)
308 – Not a post ECC corrected load
309 – Password incorrect
401 – Corrupted tar file
402 – Unknown hardware family
403 – Corrupted load file or Missing Part Number
404 – Not a post ECC corrected load or Missing Serial Number
405 – Attempt to Downgrade the BootLoader, Attempt Rejected
406 – eMMC Downgrade Error – Config needs to be built in newer version of PowerVision
501 – Factory Reset Error