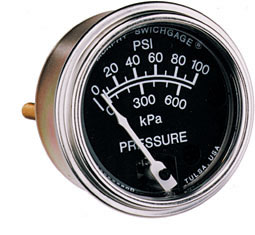 Product Literature
The B-Series Murphygage® instrument is a high-quality, diaphragm-actuated indicating gage. Built by Enovation Controls with the same heavy-duty design as the standard 20 series and 25 series Swichgage® instrument, the B-gage is more compact and is the optimum instrument for gage-only applications. It has a high impact polycarbonate lens, sturdy steel case and a polished, low-profile stainless steel bezel. Accuracy and protection from moderate over-pressure/overtemperature are assured by a unique, unitized diaphragm chamber, superior quality materials and the design of the gage movement.
Pressure Murphygage instrument
Pressure changes at the diaphragm convert to accurate mechanical movements that are indicated on an easy-to-read analog dial. A pulsation dampener in the pressure port helps eliminate pointer flutter. It can be removed for cleaning to maintain the gage's response and accuracy.
Vacuum Murphygage instrument
Available in 0 to 20 or 0 to 30 in. Hg. (0 to -68 or 0 to -102 kPa) vacuum.
Temperature Murphygage instrument
As temperature rises, the fluid in the sensing bulb vaporizes to apply pressure on the diaphragm. The movement translates this vapor pressure to a calibrated reading of temperature on the dial. The standard capillary is copper with a PVC armor. Optional armor covering is galvanized steel or 316 stainless steel (specify). Optional bulb types, adaptor nuts and thermowells are available.
Specifications
Dial: White on black; U.S.A. standard scale is dual scale; others available.
Gage Accuracy: See charts below
Temperature Range:


Temperature models: See chart below
Pressure/Vacuum models:

Ambient: -40°F (-40°C) thru 150°F (66°C).
Process: -40°F (-40°C) thru 250°F (121°C).

Maximum Panel Thickness: 1/4 in. (6 mm).
Port: Brass.
Case: Plated steel; mounting clamp included (except for direct mount models).
Bezel: Polished stainless steel, standard; optional bezels are available (see How to Order).
Pointer: White (black dial); black (white dial).
Lens: Polycarbonate, high-impact.
Sensing Element: Beryllium copper diaphragm.
Temperature Accuracy / Range Chart
Celcius measurements shown in parenthesis
| Range | Lower 1/3 | Middle 1/3 | Upper 1/3 |
| --- | --- | --- | --- |
| 32-120 (0-49) | ±12° (±6°) | ±5° (±2.4°) | ±6° (±3°) |
| 32-160 (0-71) | ±20° (±10°) | ±8° (±4.4°) | ±7° (±4°) |
| 130-220 (54-104) | ±6° (±3°) | ±3° (±1.6°) | ±4° (±2°) |
| 130-250 (54-121) | ±9° (±5°) | ±5° (±2.4°) | ±4° (±2°) |
| 140-300 (60-149) | ±10° (±5.2°) | ±6° (±3°) | ±5° (±2.4°) |
| 160-320 (71-160) | ±10° (±5.2°) | ±5° (±2.4°) | ±5° (±2.4°) |
| 180-350 (82-177) | ±12° (±6°) | ±5° (±2.4°) | ±5° (±2.4°) |
| 300-440 (149-227) | ±9° (±5°) | ±5° (±2.4°) | ±4° (±2°) |
| Range | Maximum Process Temperature |
| --- | --- |
| ≤250° (120°) | 120 % of Full Scale |
| 300° (140°) | 350° (198°) |
| ≤320° (160°) | 120% of Full Scale |
Pressure/Vaccuum Range Chart
| Range | Lower 1/4 | Middle 1/2 | Upper 1/4 |
| --- | --- | --- | --- |
| ≤300 psi (24 bar) | ±3% | ±2% | ±3% |
| 400 psi (24 bar) | ±3% | ±3% | ±5% |